| | |
| --- | --- |
| By Matt Beer | Saturday, July 2nd 2011, 14:12 GMT |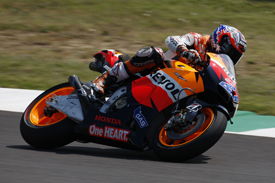 Casey Stoner believes he is in good shape for tomorrow's Italian Grand Prix having taken pole with a record lap time at Mugello on relatively worn tyres.
The pace has increased this weekend on the resurfaced track, and Stoner's 1m48.034s time was the quickest ever MotoGP lap of the track – despite the Australian not being on entirely soft tyres, and drizzle affecting the circuit.
The championship leader explained that it had been tough to decide how to handle the session with the track drying at first, but only briefly offering good grip before more rain fell.
"We went out on bike one at the start with a soft front and soft tyre to try and get a lap in because we knew the race was going to be coming," said Stoner. "It was just constantly sprinkling and you didn't really know how hard to push and how far to go.
"We realised the conditions were dry enough to put a hard front on – with the soft front we had too much 'squish' and couldn't really get the bike to work well.
"So we came in and changed something on the second bike from this morning. We weren't too happy with it this morning but this afternoon we changed something and went back out there with a hard front, and managed to go quite a lot faster with a lot less effort than we had on the other bike.
"We're really happy, we did our fastest lap on lap 10 of the tyre, so that's looking good for the race distance tomorrow."
He admitted that he did not think that lap would have stood for pole, as he suspected the track would dry again in the remaining half hour.
"I was sure [the rain] was going to disappear again and I was sure the track was going to dry out and people were going to overtake my time but we managed to hold on there in the end to grab pole," Stoner said.
Vladimir Kavinov Mike Kiedrowski Darryll King Shayne King Heinz Kinigadner