| | |
| --- | --- |
| By Toby Moody and Matt Beer | Sunday, July 3rd 2011, 16:46 GMT |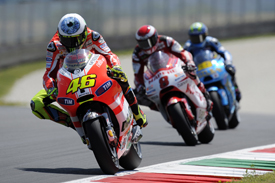 Valentino Rossi says Ducati needs to come up with further new developments to address the issues with the front end of its bike as switching to the 2012 chassis has not solved the problem.
Ducati recently introduced a version of its 2012 bike with a 2011-style 800cc for Rossi after struggling in the opening rounds, but the new machine has not delivered an upturn in results in its two appearances so far.
"I think the problem is quite clear and we have to work – on improving the setting of this bike, but also on making something else to make a bigger step," said Rossi.
"The new bike changed the rear and the rear worked. But the front remained the same, and we need something."
He added: "The problem on braking and entry remained – I don't have enough feeling on the front to enter like I want. In the fast parts, these are the places where I lose more.
"So we have to work on the settings and we have to work on the software, but we also have to work on the hardware. We have to work more to try to fix the problem on the front as soon as possible."
Rossi had only qualified 12th for today's Italian Grand Prix, but he came through to sixth in the race after a weight distribution change in the warm-up paid off. He admitted that with rain having hit the Assen and Mugello weekends, Ducati had been short on time to understand and fine-tune the new bike.
"This morning we did a great modification to the setting of the bike," he said.
"The weather conditions in Assen and here in Mugello didn't help us to improve the new bike, so this morning we tried quite a big modification and it's becoming better.
"So I was able to do a better rhythm, and get closer. We have to work on this type of setting because we improved the turning but we lost a bit of grip. But we can work more on this setting for the new bike."
Zach Osborne Trampas Parker Travis Pastrana Gautier Paulin David Philippaerts