| | |
| --- | --- |
| By Matt Beer | Sunday, July 3rd 2011, 11:17 GMT |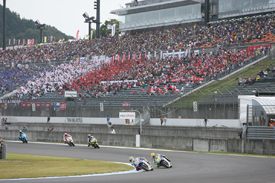 FIM president Vito Ippolito remains confident that there is no reason for MotoGP's Japanese Grand Prix not to go ahead, despite riders' fears over radiation risks.
Amid continued concerns from MotoGP participants about whether it was safe to travel to Motegi in the wake of the nuclear power station crisis that followed March's earthquake and tsunami, the FIM said it would hold further discussions this week before making a definitive announcement during this weekend's Italian GP.
In a statement issued today, Ippolito said that all the information the governing body had at present suggested there was no cause for concern.
"In the present circumstances and with the elements on our hands, including reassuring statements from various governments concerning travel restrictions, I cannot but reaffirm what was said in the previous press release," he said.
Ippolito underlined that the FIM was still monitoring the situation in Japan and would not take any risks.
"The FIM is awaiting for the results of a report conducted by an independent European agency on the conditions prevailing in Motegi that will be released later this month," he said.
"Together with our partners and stakeholders we will continue to monitor the situation very closely to make sure that the safety and health of everyone involved is guaranteed at all times, which is an absolute priority for the FIM."
The Japanese GP is scheduled for 2 October, having been postponed from its original April date due to the disaster.
Darryll King Shayne King Heinz Kinigadner Dusty Klatt Arne Kring